Depending on the cryptocurrency (token) chosen to make a payment, there might be one or more networks, standards or protocols.
It is crucial that tokens are sent using the compatible protocol, otherwise, they might be lost. BVNK alerts users on the Hosted Payment Pages on which network or standard to use: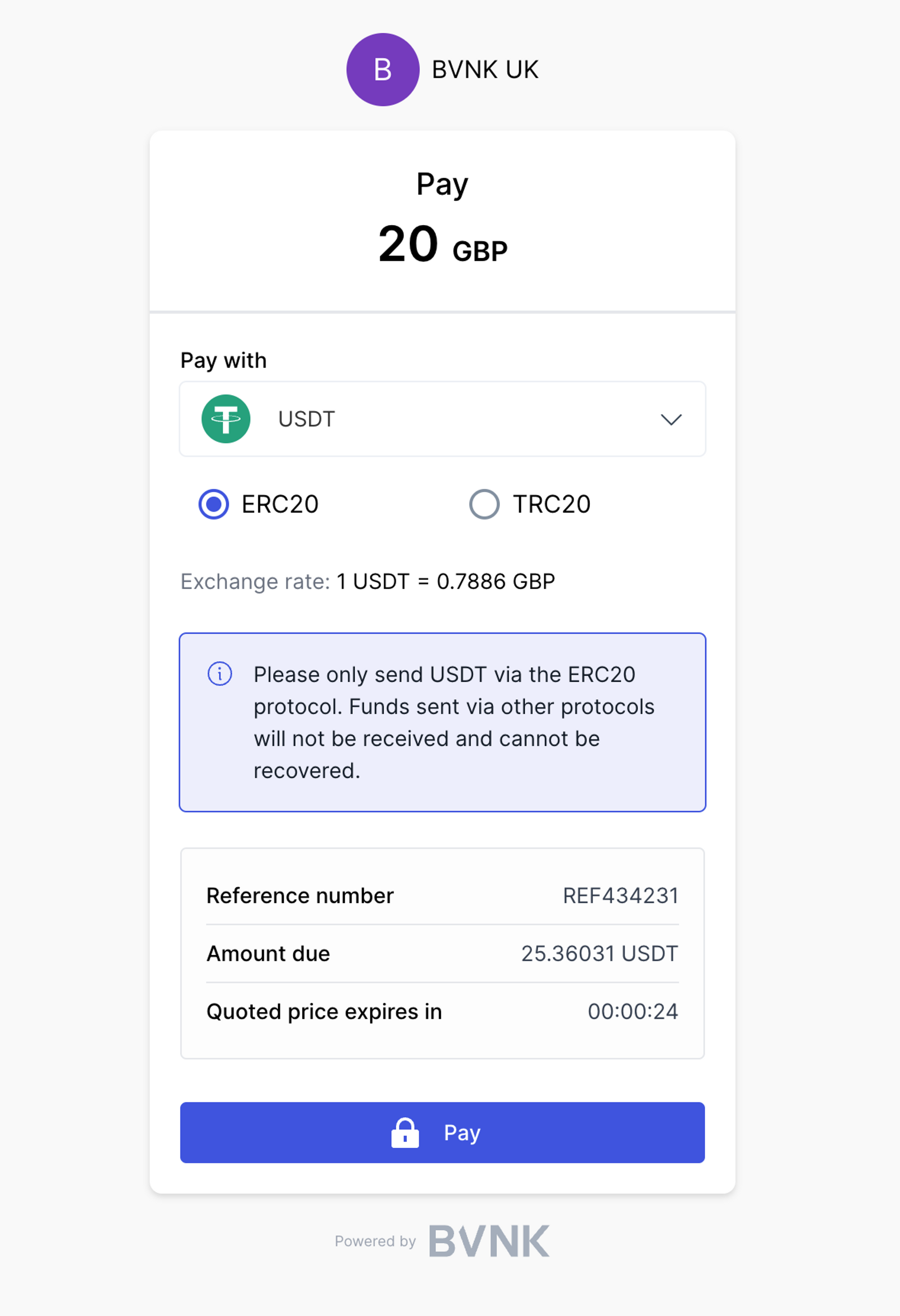 When making a payment, check if the payment address matches the structure of your external wallet.
Example: Making a USDT payment on TRC20 gives you an address that usually starts with a "T", like so: TWNuXEyxS5x5R5a5d5a5D5e5G5h5t5j5w5y5z
Tokens, network and standards supported by BVNK
You can also get a list of cryptocurrencies supported by the API.
Token Code
Token Name
Network/Standard
Example Wallet Address
BTC
Bitcoin
Bitcoin network
1BvBMSEYstWetqTFn5Au4m4GFg7xJaNVN2
ETH
Ethereum
Ethereum network (ERC20)
0x742d35Cc6634C0532925a3b844Bc454e4438f44e
USDT
Tether

ERC20

TRC20

0xdac17f958d2ee523a2206206994597c13d831ec7

TWNuXEyxS5x5R5a5d5a5D5e5G5h5t5j5w5y5z

BNB
Binance Coin
Binance Smart Chain network
bnb1grpf0955h0ykzq3ar5nmum7y6gdfl6lxfn46h2
USDC
USD Coin
ERC20
0xa0b86991c6218b36c1d19d4a2e9eb0ce3606eb48
XRP
Ripple
Ripple network
rEb8TK3gBgk5auZkwc6sHnwrGVJH8DuaLh
ADA
Cardano
Cardano network
addr1qx8cr9mc4a2q6fz6053h6zfe7tap4jvujc7ppzpe3gq0utmz3msk9yrg4wgl9u9qjkkx5r8z6pjm5m9zgqdqav4yqy0xj6lzxd
DOGE
Dogecoin
Dogecoin network
D6J8iVbLTe4Ck9RJF8V8s8h9Js7mV7hVUz
SOL
Solana
Solana network
2HzWkH3nL3Lv25pL4xaPvKwv9XHkA3Svve8
TRX
Tron
Tron network
TQvQVJwH1NVGZrQpLWx3m41JXsYUgZWhP1
LTC
Litecoin
Litecoin network
LgPf7vZi9MzFTqJeXKcBxZ1LZiLxu8XfZ8
DAI
Dai
ERC20
0x6B175474E89094C44Da98b954EedeAC495271d0F
BCH
Bitcoin Cash
Bitcoin Cash network
bitcoincash:qzy4y5gq0g40luzcnrsm8zruyf6g4fj4w50rc3zj6v
ALGO
Algorand
Algorand network
7L5LQ2TQH7QIREZ3KAKMA7I3BSS5VNLD5GHEFUBVGUSXKZJ7X6X2XZ7LJU